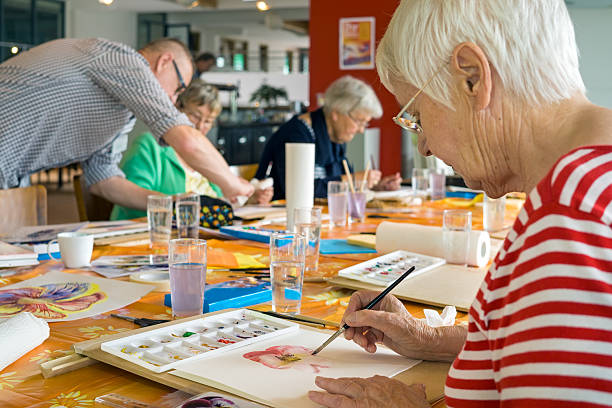 What is the importance of over 55s communities?
You're retiring early and you want to live your best life; downsize, travel and lead an active, engaged life. But where will you live? You want amenities, lifestyle and a sense of community. Over 55s community living is becoming more and more popular with young, active retirees as they find over 55s communities purpose-built to suit their needs.
How do over 55s communities improve healthy living and the quality of life for early retirees?
Access to Amenities
Retiring early has never been easier with independent community living that offers a range of impressive amenities like cinemas, libraries, bars, community centres, swimming pools, workshops, community vegetable gardens, golf courses, bowling greens, excellent public transport links and access to medical facilities. There's also no need to worry about yard work and living within senior gated communities, your home is safe and secure.
Social Connection
Active senior living communities are purpose-built and offer residents a chance to connect through the many organised events on offer which can help reduce social isolation which sadly, is a growing problem in Australia. Fortunately, over 55s community living offers opportunities to be part of walking groups, hobby clubs, exercise groups and all sorts of fun activities to ensure residents are well connected.
Choosing to move into a over 55s community gives many residents a sense of belonging, or 'being'. John, a resident of a over 55s community in Victoria, said: "The best move I ever made was coming into the village." You can live on your own terms and still be socially engaged and active. It's the perfect way to be.
Sense of Community
There's always someone around for a chat and each over 55s community offers its own facilities that bring people together for different activities. Moving to an over 55s community can certainly make it easier for people to make friends and connections with those who share similar interests.
Wellness Programs
Independent senior living communities organise weekly outings for their residents and now offer wellness programs that encourage overall health and well-being such as walking clubs, tai chi and mindfulness.
Elderly Care Assistance
The Retirement Living Council (RLC) found that health and safety concerns are key factors behind older people considering moving to senior over 55s communities, as well as the ability to remain independent as they age.
Village living can reduce the need to move to residential aged care because the design and services help residents remain independent for longer. Some over 55s communities only offer independent living so it's important to understand what's on offer before committing.
How can active seniors thrive in communities in their early retirement?
As an early retiree, once you've chosen to move to an independent senior community living facility, much of the stress of your everyday life will be removed and you can focus on the things that you love to do. Doctors have identified ways to ensure you thrive in early retirement.
Stay Physically Active
Taking care of your physical health involves staying active and it's been discovered that those who exercise regularly not only live longer but also may live better — meaning they enjoy more years of life without pain or disability.
Engage in Social Activities
Mental wellness is essential to our overall quality of life. It affects how we feel and relate to others. Managing social isolation and mood are key to healthy ageing so staying socially connected will help your mental wellbeing.
Participate in Community Activities
Moving into a senior living community is the ideal option to ensure older adults do not feel lonely. With an abundance of activities on offer, retirees will thrive within a new community making them feel welcome and included.
Take Advantage of On-Site Services
Over 55s communities often provide support to help residents navigate and gain access to government-funded services. They can also connect them to services from cleaning to grocery shopping and even medication management. This support can be life-changing and frees up more time for residents to enjoy what they moved to the community for in the first place – fun and a sense of community!
Maintain a Healthy Lifestyle
Maintaining your physical health, making healthy food choices, getting enough sleep, limiting alcohol intake and proactively managing your health care all contribute to healthy ageing. But perhaps the most important message here is that when you are surrounded by active, positive, like-minded people, maintaining a healthy lifestyle becomes second nature.
Choosing the right lifestyle village to live in
Retiring early is everyone's dream. You've worked hard to make this happen and you want to make the right decision. You're committed to leading an active lifestyle and to finding an over 50 living community that best suits your values and mindset. All you need now is to settle on a shortlist and to visit those that best meet your needs. Discover a new way of living at Ingenia's lifestyle villages at Werribee, Glenroy and Albion; where lifestyle meets community. You won't be disappointed.